Alhamdulillah.
This post is about my journey to Sunway Lagoon.
Here is the summary;
Situated about 30 kilometres from my town. About 30 mins ride on bike.
Located near Sunway Pyramid in Bandar Sunway

Aerial view of Sunway Lagoon

Officially opened on April 29, 1993 by Prime Minister YAB Dato' Seri Dr Mahathir Mohamad.
OK enough. It's time to talk about my journey.
I went there on bike. Arrived at 10.30
So, we, Akmal, Hanif, Faez and I bought the tickets at 12.
Costs about RM60 plus RM10 deposit for the wristband = for 3 parks [waterpark, wildlife, amusement]
After we changed our attire, we tried the first ride which is African Python. Its a gigantic tube slides. Haha. We need to ride with a double tube. Super fun man. We rode that twice. BTW, Sunway Lagoon was quite empty yesterday. Yeah you know, school breaks over. HAHA.
And after that, we gave a try on Cameroon Climb. Another type of slide which is really high and fast! You might be flying when you are up there. HAHA.
Congo Challenge. A six-lane headfirst racer. One of the best ride in Sunway Lagoon. We race on mattresses like a SUPERMAN. First to reach the finish line wins. HAHA. And guess what, we rode that 4 times.
Then we hang around the beach and river. Watching the views.
With our wet attire, we went to the amusement park. First, we rode the roller coaster. Quite thrilling and we rode that twice.
After that. The Colorado splash. Its just a big round tube swirl and flow through a man made stream.
Then,...I dont know what they called but it is quite the same as Cameroon Climb.
And then the shoe. Its nothing but a shoe that turn around and around.
Ahha!! This is fun. The Tomahawk. Experience the 360° swings! HAHA. Very fun.
And then, we had a walk on the Longest Pedestrian Suspension Bridge in the world bare footed...HAHA. and watched a bungee jump.
HAHA. This is the best part. FLOWRIDER yeah. A surf simulator and that was my first time ever surf on a body board. Very Fun. At first, as soon as I entered the water, i got pushed aside an fell. HAHA. And then I can control my body and remained in the ride. But Again, i fell aside. SO, i tried for the second time. This time I can hold a little longer before collided with Akmal and hit the back wall. HAHA. I tried again and i can surf really long and I'm not lying down but kneeling on the board. Haha. Seemed like a PRO. AND that was extremely super fun.
Ok. After that, we hang around the park. Played some water Got out at 4.
Had our lunch at 5 at Pizza Hut.
Rode back home at 7.
AND I'LL TELL YOU ALL. GO EXPERIENCE YOURSELF. IT'S TOTALLY FUN.
Suspension Bridge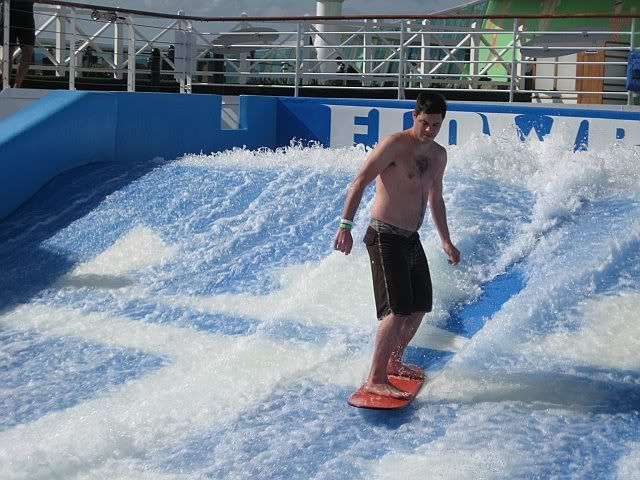 Flowrider [but thats not me]
Salam